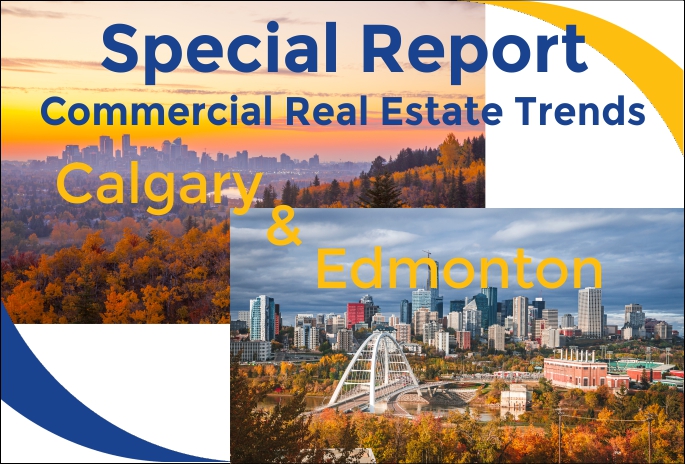 A Special Report
October 26, 2021
by Jenny Spurr – Connect4Commerce Contributor
As businesses across Alberta prepare to bounce back following the COVID-19 pandemic, many entrepreneurs are wondering if now is the right time to invest in commercial property. In the midst of this uncertainty, three trends in commercial real estate are becoming clear: hotel and retail properties are still in distress, remote working has impacted more than just residential real estate, and the rise in e-commerce has put a spotlight on industrial assets. In this special report, we take a close look at these trends in two major cities: Edmonton and Calgary.
3 Trends in Commercial Real Estate in Edmonton and Calgary
Trend #1: Distressed Asset Sales Surge in 2021
Commercial real estate is expected to see a surge in distressed asset sales through the rest of 2021, thanks in large part to more professionals working from home. With fewer people needing office space, many companies will try to cut costs by reducing the size of their footprint, says Dan Dokovic, Managing Partner and Co-Founder at Bamboo Equity Partners, a leading commercial real estate investment firm.
Office vacancy rates in Edmonton hovered around 20% in May 2021, according to an article in the Edmonton Journal. In comparison, Calgary's available office space stood at nearly 30%. This increase in vacancy rates is sure to put downward pressure on new office lease rates, and significantly impact commercial real estate and leasing costs in Edmonton and Calgary. The result? Opportunistic investors might be able to acquire office space at a discount, says the August 2021 Global Real Estate Insights report from Colliers.
The option to work from home has also shifted demand for retail from the downtown core to residential areas. Many retailers operating in Calgary's Stephen Avenue or Inglewood neighbourhood have been forced to reduce staff, reduce hours, or close their doors due to a significant drop in daytime and evening traffic, reports the CBRE. Suburban shopping centres in established neighbourhoods have taken centre stage, and tenants are looking to position themselves in the places where consumers live and work. That said, there are big benefits to buying commercial property where pre-existing infrastructure can help keep a company's startup costs low.
Trend #2: Leaseholders Look for More Flexibility
The pandemic has put pressure on landlords and tenants trying to manage their ongoing liabilities and lease agreements. Despite government assistance, last year's commercial rent decrease marked the largest drop in the Commercial Rents Services Price Index (the average rents, measured in price per square foot, for a sample of commercial buildings in Canada) since 2006.
The retail industry was hit hardest, with rents dropping 4% across the country, according to Stats Canada. This is because rents are tied to retail sales. While in-store sales are still recovering, the rise in e-commerce has created a strong demand for inventory space. In fact, the national industrial vacancy rate was just 1.7% in Q2 2021. The increased demand coupled with a lack of inventory means rent for industrial buildings and warehouses is likely to increase.
Trend #3: Industrial Sector Continues to Grow
As demand for industrial space continues to grow, industrial assets are moving at record levels. In Q2 of 2021, industrial saw the largest price gains of all asset types in Canada, according to the North America Capital Markets Snapshot from Colliers. And it's not slowing down any time soon. CBRE estimates that warehouse requirements will exceed 40.0 million square feet over the next five years. Especially in Edmonton, where companies are looking to increase their supply chain capacity. For this reason, industrial real estate remains the top choice for savvy investors.
What does this mean for business owners and investors looking to buy or lease commercial property? Now more than ever before, it's important to do your research. Don't rush into a commercial real estate decision that could have disastrous consequences for your bottom line and your portfolio.
View the businesses and franchises currently for sale on Connect4Commerce.
---
Connect4Commerce offers entrepreneurs and small business owners across the country a convenient and comprehensive place to connect, exchange goods and services, and advance their businesses. Be sure to check out further articles in our Small Business News blog for more small business tips. Also, find professionals on our site that can help you build your business. when you're ready to find the perfect space for your business you can find the commercial real estate listings on our website.
Related Posts: