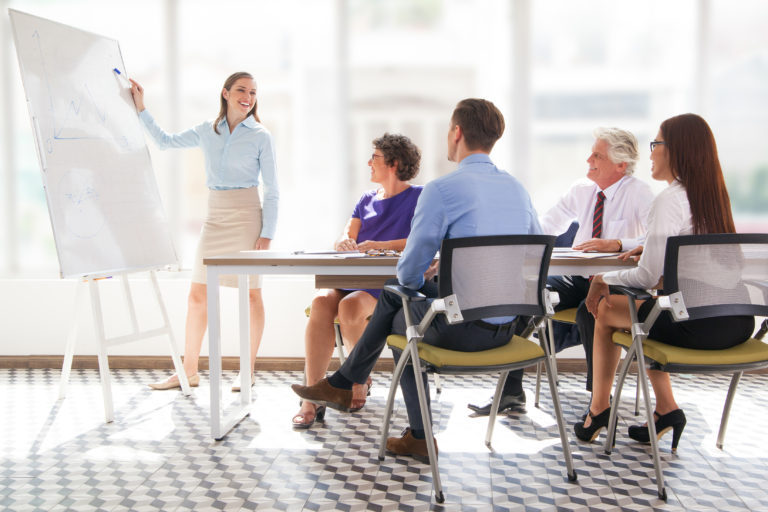 Why Training Can Be a Key to Increased Productivity and Employee Retention
I've always felt that you hire employees for their attitude and train them for skills (for more on that see Hire for Attitude, Train for Skill in the Harvard Business Review). If you have hired someone with a good attitude, then it is worth the investment to ensure that they are well trained. To me, ongoing training is part of ensuring that employees continuously learn new skills which help to increase their engagement and productivity. That is why I am often surprised at how little emphasis that some employers put on training their employees on an ongoing basis.
With the average employee staying in a job for two years there is a temptation not to invest in your employees, but that inclination would be wrong. According to a Government of Alberta report workers consistently rate learning opportunities and skills development high on their wish list. Organizations that support training, career development and performance plans report better margins, improved productivity and morale, and fewer errors, accidents, and turnovers (Retaining Your Staff, Government of Alberta 2013).
Incorporate Training as Part of Onboarding New Employees.
A good onboarding process for new employees involves enculturating them into your business and training them for the skills and procedures needed in their position. That training should start early in the employee's tenure according to Deborah Cox of Training Warehouse. "Employers should use formal training as part of onboarding employees to help to set company expectations and help with early employee engagement." Highly engaged workers tend to be more productive and happier in their positions and with their employers. In contrast, the cost of poor initial training can be high because a recent survey indicates that 40 per cent of employees who receive poor job training leave their positions within the first year (go2HR, "Employee Training is Worth the Investment").
To ensure that you have incorporated appropriate initial training for your new employees you should:
Plan what training is needed for the position. Look at the skills required to do the job well and then formulate a plan to train for those skills.
Assess the skill gaps of the new hire. This can be either informally asking them what level of skill they have for each part of the job or doing a formal assessment.
Provide another employee to mentor the new hire. Studies have shown that employee mentoring helps both with the onboarding process and with ensuring the employee develops their skills.
Check in with the new employee regularly. Check in with the employee to ensure that they are learning the needed skills or to see if they need additional help.
Investing in Ongoing Training Can Help with Employee Productivity.
In addition to training new employees, employers should provide training to existing employees on a regular basis. "Employees see employer provided training as a sign that you see value in them by investing in them," according to Deborah Cox. In addition, ongoing training can help lead to a culture of continuous learning helping to increase productivity and profitability.
While there are many areas you can train your employees. Effective time management has become more important in a world where there are many distractions and competing priorities. Training in recognizing priorities and time management can help with day-to-day productivity. In addition, providing training in project management skills can help office workers with executing key projects. For workers on the shop floor, continuous skill and safety training will help the productivity and safety of employees as well as increase their engagement in their work.
Cross training is also important for employers to encourage. It is very important to share knowledge among your staff. If only one person has special skills, you will have a tough time recouping their knowledge if they suddenly leave the company. By spreading knowledge around you will have a more flexible team.
Training Can Help with Team Building.
Harvard Business Review has collected data over the past two decades that indicates the time spent by managers and employees in collaborative activities has ballooned by 50 percent or more. Just as collaboration has increased, so has the importance of communication and handling conflict. Training that helps people communicate and help solve workplace conflicts can be helpful to build your team. This may be why Deborah Cox from the Training Warehouse says that the two types of training that are most popular are communication skills and conflict resolution.
Whether the training you provide is formal or through informal mentorship it is important to provide employees training. A 2020 LinkedIn Global Talent Trends report cited as many as 36 percent of Gen Z, 25 percent of Millennials, 20 percent of Gen X, and 21 percent of Baby Boomers view investment in employee training as a top factor when considering a new job, and the report found that 94 percent of all employees would stay with a company longer if offered an investment in training. So, in addition to increasing productivity, training is an important factor both for recruiting and retaining high quality staff as well. That is why it is so important to provide ongoing training for your employees for increased productivity, engagement, recruitment, and retention.
Connect4Commerce offers entrepreneurs and small business owners across the country a convenient and comprehensive place to connect, exchange goods and services, and advance their businesses. Be sure to check out further articles in our Small Business News blog for additional resources. Also, find learning & event opportunities for you employs on our site that can help you with providing ongoing training for your employees.
Related Articles and Posts: