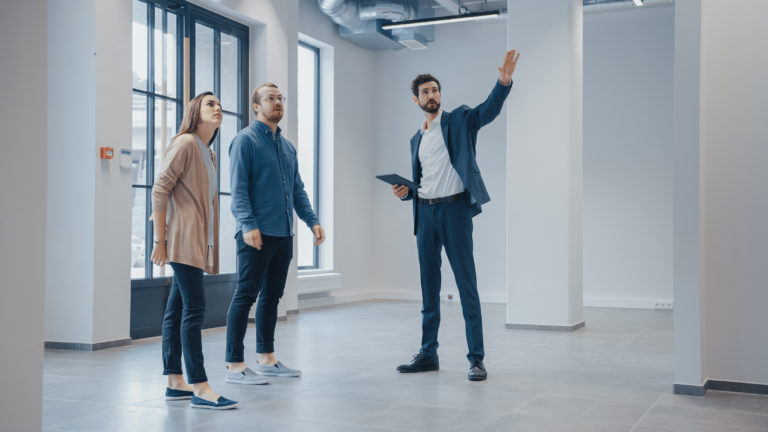 For many businesses choosing the right location can be critical for the success of the business. Depending on the type of business you have, your location will impact different parts of your business to varying degrees including your businesses operations, marketing, customer traffic, and access to employees. This makes finding the perfect location for your business a key consideration when you are starting or moving a business.
Choosing the perfect location for your business has allot of moving parts. Different types of business need different things or need to emphasis different items when making the choice. Before looking for a location you should create a list of items that are important to your business and then prioritize the list. That way you will have a tool to objectively evaluate the locations you view. This article will go through a few common items and issues to help you get started with your list.
Different Types of Businesses, Different Needs:
Retail Locations:
The location for most retail stores is very important and can be a key factor in the success or failure of the business. The location should have the right demographics for the type of retail. It should have good visibility, be near other retailers that appeal to a similar demographic and have similar tastes to what the retailer is offering. One way to see if an area is right for your retail store is to research the surrounding neighborhoods using postal code information. Statistics Canada has several statistical reports which can be used to help understand the local neighborhood better, and Environics also has a tool that shows the demographics and lifestyles by postal code area.
Restaurants:
Similar to retail, restaurants need to consider who they are going to serve and find a location that is visible, accessible, and has customers that will fit into the demographic and lifestyle that the restaurant will appeal to (see retail above for links to demographic tools). In addition to those considerations, restaurateurs will want to pay close attention to location and access to HVAC, venting, and plumbing as these are often the highest costs in renovating spaces for restaurants.
Office Space:
If clients frequent your office, then you need to think of the image that you project with the building, location, and space. There are several grades of office space with class "A" being the highest quality usually found in modern skyscrapers in the downtown of major cities; class "B" is still good quality which can be found in the downtowns of small cities and beltlines of major cities; class "C" is general office space with fewer amenities. As a general rule, you should get the office space you need to serve your customers – if you serve large corporations then you might consider class A, but for most small businesses either class B or C buildings will do nicely.
According to an article in Inc. Magazine, a good rule of thumb for how much space to get is 200-250 sq. feet per employee (including common spaces). To save renovation costs, consider a space that already has offices in it and includes amenities such as washrooms and kitchens. Also, don't forget to plan for future expansion as the lease will likely be for five years or more. Finally, you should consider access to parking and public transit for your employee's when you are looking at a location.
Light Industrial:
With light industrial spaces you need to consider how zoning regulations will impact the location. If the building is not zoned for the type of business activity, then it will add time and cost to get it rezoned (zoning is a city responsibility and getting a building rezoned is not always possible). Depending on the activity, other considerations such as fire regulations, HVAC, and access to major roadways should be used screen potential spaces early in the process as well.
General Tips for Finding the Perfect Location:
Once you develop your list of requirements you need to start to look and evaluate potential locations. Lori Suba, a broker with Scout Real Estate, says that one of the mistakes many people make is to underestimate the time that it will take to find a suitable location, negotiate the lease or sale, get the location rezoned (if required), and complete any needed renovations. "If you don't allow for enough time to complete this process then you limit your options for potential locations" according to Lori.
Lori also advises that you should "check on the available hours of access to the building or hours that you are able to operate as that may impact your decision about a particular location, particularly if you serve customers outside of building operating hours."
As you narrow down to the final few choices you may want to include your employees as they may see concerns about the location, functionality, or other aspects of the location that you may not have considered. You may also want to find out from other businesses in the building how responsive the landlord is to the tenants needs.
Finding the perfect location for your business can be a complex process and you need to do some research, make a checklist of your requirements, search for suitable locations, and narrow down the potential locations. Using a commercial real estate agent can be helpful as they can provide expertise, market awareness, and assistance with negotiation. Most commercial real estate professionals work on a commission basis, so they only get paid when you find a suitable location and the fees are typically paid by the Landlord or Sublandlord. Whether you conduct the search yourself or use an agent, make sure to leave yourself enough time so that you don't rush through the process.
Connect4Commerce offers entrepreneurs and small business owners across the country a convenient and comprehensive place to connect, exchange goods and services, and advance their businesses. Be sure to check out further articles in our Small Business News blog for additional resources. Also, find professionals on our site that can help you build your business. when you're ready to find the perfect space for your business you can find the commercial listings on our website.
Related Posts: